Moscow Poly Participated in "Bahrain and Russia" Artistic and Cultural Event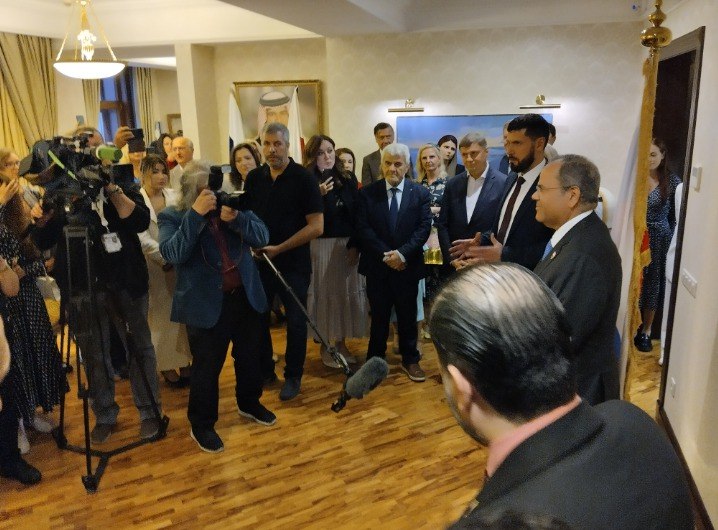 The Embassy of the Kingdom of Bahrain to the Russian Federation, in cooperation with the Bahrain Society for Modern Arts, held an artistic and cultural event on painting and sculpture – "Bahrain and Russia" with Moscow Poly employees joining the event.
The art expert Valentin Riabov, artist Irina Miklushevskaia, curator of the "Art Polytechn" project Ivan Riabov, as well as the vice-president for international affairs Yulia Davydova and head of directorate for international integration & WFS Anastasia Ahmedova were invited to the event to represent Moscow Poly cluster "Art Polytech".
His Excellency Ahmed Abdul Rahman Al Saati, ambassador of the Kingdom of Bahrain to the Russian Federation, welcomed the participating artists with a speech where he paid emphasis to the development of the Bahraini-Russian relations. The artists, in their turn, noted that the event became an artistic venue to unite Bahraini and Russian masters of art.
Within the framework of the meeting, the artist Irina Miklushevskaia held a workshop after which she presented the painted watercolor painting to the Ambassador of the Kingdom of Bahrain.
Reference: for the second consecutive year members of the Bahrain Society of Modern Arts take part in the "Russia" 7th international forum that takes place from August1 9 to 31 in Belgorod and aims at representing the Kingdom of Bahrain among scientists and artists from 5 Arab countries.