Moscow Poly Won International Contest for Best Practices in Staff Training
Moscow Poly practice "From Idea to Professional Self-Realization" has been announced the winner of the "Project Education – Step to Future" contest for the best practices in staff training. Overall, 82 educational organizations participated in the contest.
The awarding ceremony was held in the course of the "Business and Education: Best Partnership Practices" national conference organized by the National Agency for Qualifications Development.
At the opening ceremony, the director general of the National Agency [for Qualifications Development] Artem Shadrin highlighted the importance of best systemization of practices collected in the course of the contest. At the same time, the winner projects themselves are still under development, whereas the useful experience is implemented and replicated.
"The project activity is a mechanism that adds to such conventional formats as lectures, seminars and production internships, by allowing students to carry out projects. Ideally, two effects should be reached. The first one is when students get the motivation to thoroughly work out the specific knowledge needed for the project implementation. And second – building 'soft skills', ability to work in team and perform their responsibilities", - Artem Shadrin quoted as saying by the National Agency press-service.
The Institute of Graphic Printing presented its project activity practices that contained all the experience gathered by the University. The presentation demonstrated to the conference participants the algorithm for interaction between Moscow Poly and its industrial partners when creating project solutions and operating their life cycle. It was also shown how the features are distributed between all the participants of the project activity at the University.
According to the representatives of the Institute of Graphic Printing, the methodological materials that they developed can be useful for colleagues both in terms of increasing the engagement level of all participants into the creative process of "upgrading" of the entrepreneurship skills, and market monetization of project initiatives.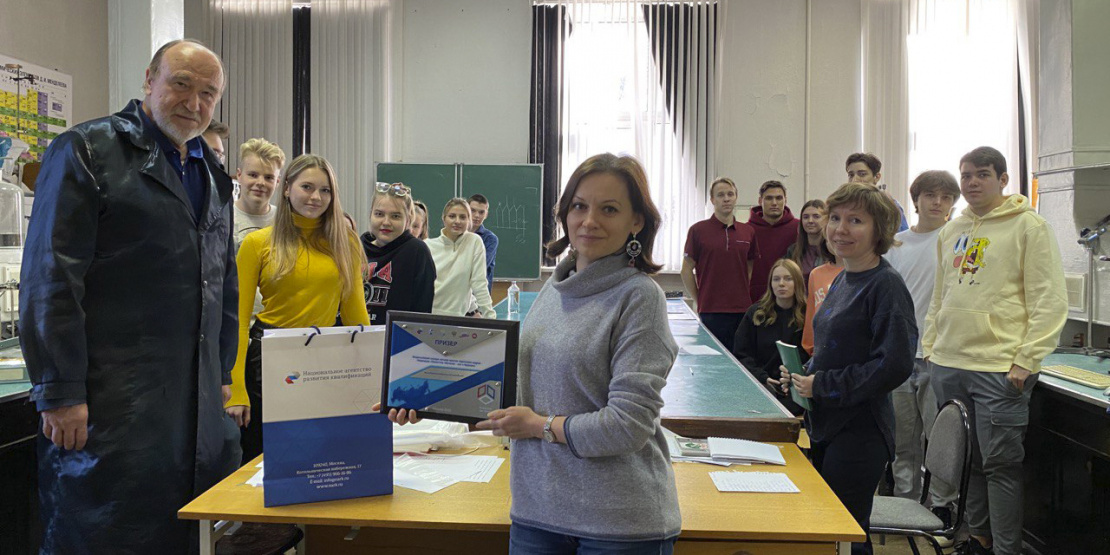 Photo: Institute of Graphic Printing director, Irina Nagornova; participants and administration of the "Labelling Packages for Fighting Counterfeit" project.