Moscow Poly Teams Became Winners in "Leaders of Digital Transformation"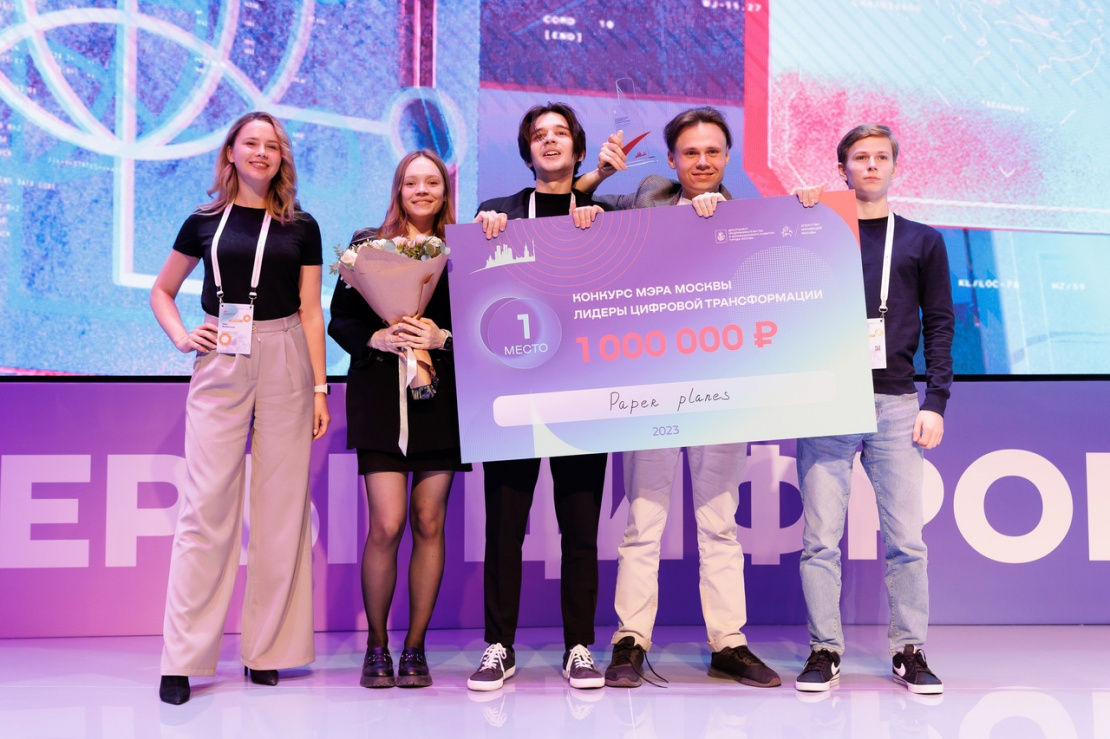 The "Leaders of Digital Transformation" fifth anniversary contest in development of digital solutions for the city established by the Moscow mayor united talented young people from Russia and other countries. 7,000 people expressed their desire to participate in the hackathon 2023. 210 teams that made it to the finals were faced with a task to solve 21 assignments from the city and business. Among them, 63 teams became winners and shared 42 million rubles. Moscow Poly team took the gold and silver of the contest.
The "Paper Planes" team received 1 million rubles for developing a platform for internship processes administration.
The key features of the platform include digital document management, automated business processes and the matching system for the interns and mentors. The experts admitted that it`s a great tool for searching and administering the internship processes in the Moscow administration.
The team members, third-year «Web-Technologies» worked on the platform development. All guys – Savelii Grabovy, Daria Syomina, Ivan ELiseev and Sergei Potikhanov – are all groupmates. The idea generator of the team was Savelii Grabovy, and others developed and coded the application.
The second team from Moscow Poly – «MosPoly Virtual Game Studio» took the 2nd place and was awarded 600 thousand rubles for developing a video game using Moscow images as background.
When developing the game, the team had to meet several conditions: it had to be a new game project that was started and completed in the period of hackathon duration, at the same time the team could use any game engine, programming languages or tools and choose any game genre. One should be able to launch the game on Windows, OS mobile emulator or in browsers without any additional hard- or software.
All the tasks that the teams had to complete at the hackathon were provided by the departments for entrepreneurship and innovation development, health care, housing and public utilities, labor and social protection of population, investment and industrial policy, as well as by the Committee for Tourism, Main Control Directorate and Youth Career Projects by government, as well as Aeroflot, Gazprombank, Ozon, SeverStal, Russian Environmental Mediator, Sitronics Group, PIK, Samolet, Tada.team and Whoosh. Cloud (cloud technologies) acted as a technological partner of the event.
For reference: «Leaders of Digital Transformation» contest is organized by the Moscow Department of Entrepreneurship and Innovative Development among orders from Moscow executive bodies. The event Agency for Innovations for Moscow takes the role of an organizer.