Moscow Poly President "Engineering Education Should Be Practically-Based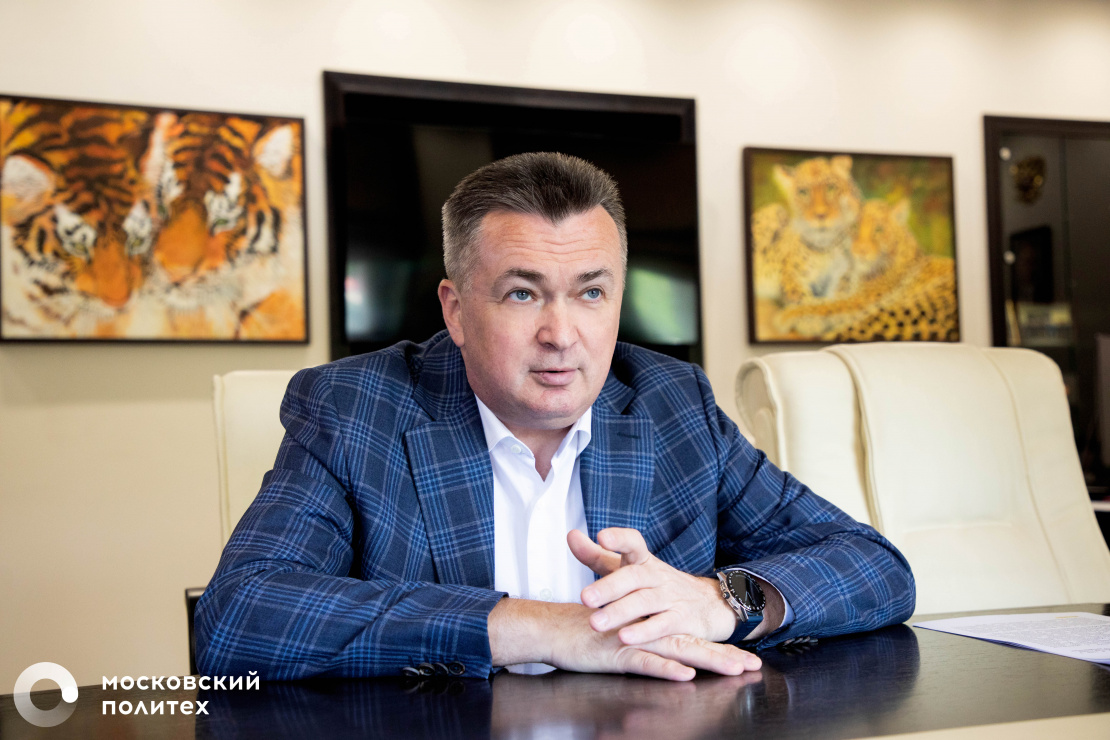 What the education in engineering sphere should be like? How can companies participate in training specialists for their needs? Can Russia produce its own car? Moscow poly president Vladimir Miklushevskii answered all questions posed by the "Interfax" new agency.
On admission campaign 2022
– The number of enrollees this year is approximately 5% more than last year. Naturally, this number varies fr om field area to field area, but the interest for several programs the demand will be really high – up to 20 people per place.
The number of state-funded places is also growing every year. For instance, in IT the increase has amounted to 13%: last year it was 714, places, whereas in 2022 it`s 839 state-funded places.
The planned intake for Moscow Poly in 2022/23 academic year will be 2,132 places, and 1,550 more will be allocated for contract students.
The ratio between state-funded and contract students is 60/40, wh ere 60% is state-funded students and 40% - contract students. That`s how it was last year and this year, I think, the situation will presume.
On the interest that the youth demonstrates to engineering
– When speaking about education in engineering in general, it causes more and more interest. The top areas chosen by students are the areas related to transport. The "Perspective Transportation Means" program has beaten all records this year in terms of the number of applications.
IT and creative field areas are also demanded. IT is the Moscow Poly biggest faculty. 24% of students are studying IT. And that`s good. Exploring any engineering sphere without IT skills is impossible and frankly speaking has no point.
On international students

– We do not see any decrease. We`re the fifth biggest university in Moscow when it comes to the number of international students. They`re glad to come here to study. Mostly, that is the CIS citizens – Tadjikistan, Uzbekistan, Turkmenistan and Kazakhstan. And we`re only happy. This can of geography allows us to expand relations between countries. By most part, one of the tasks that are set before the Russian countries is to level up the knowledge of the students from CIS countries and create all conditions so that after graduation international students would stay in Russia both to live and work.
Speaking of the numbers of this-year intake, almost 700 international students from 66 countries have applied to Moscow Polytechnic University. That is, I`ll repeat, mainly the CIS country citizens but there are also enrollees from Morocco, Serbia, Vietnam and other countries.
On AES and the prestige of the profession of engineer
– I`m not one of the cynics who think thank the profession of engineer is not prestige anymore. The engineering programs have always been in demand. There was a certain setback during the 90s but the situation has changed. Moscow Poly has offers bachelor programs that are related to race cars, the competition for a place there is 40 people per place.
This year we established the Advanced Engineering School (AES) for electric vehicles in 3 programs: "Racing Engineering", "Automotive Mechatronics" and "Engineering Design". At the master programs at AES, we`ll train super engineers, multi-profile engineers that will become constructors, manufacturing technicians and designers all in one.
The AES is based on principles of concurrent engineering. That is to say that constructors, designers and technicians will acquire their majors but they will also be professionals in interdisciplinary spheres and understand the processes of their colleagues` work who are in their team.
There are 2 construction bureaus in Moscow Poly: one of them is 25 years old, the other one is 15. We cooperate with well-known partners, such as KAMAZ, Avtotor – the largest contract car manufacturing enterprise that now changes the format of work for car manufacturing and is to explore the new and unfamiliar sphere.
The third well-known partner of ours is NAMI (FSUE «NAMI» Central scientific research automobile and automotive engine institute) that produced Aurus.
Each of the 3 partners is making their own elaborations. We`ll specialize in passenger electric cars, although we are ready to look for solutions in the sphere of truck manufacturing that KAMAZ deals with.
On training competitive specialists
– Moscow Poly has approximately 700 partners that we work with on various projects.
Apart from that, we have many - practicing specialists in the industry who`ll teach our students. That`s a crucial factor. We are a practically-based university, and we were one of the first universities to introduce such an important discipline both for bachelor and specialist programs as project activity. These are the specific projects that our students are engaged in, and that gives them real practical skills.
The full interview (in Russian) can be found here.