Important Victory for our Illustrator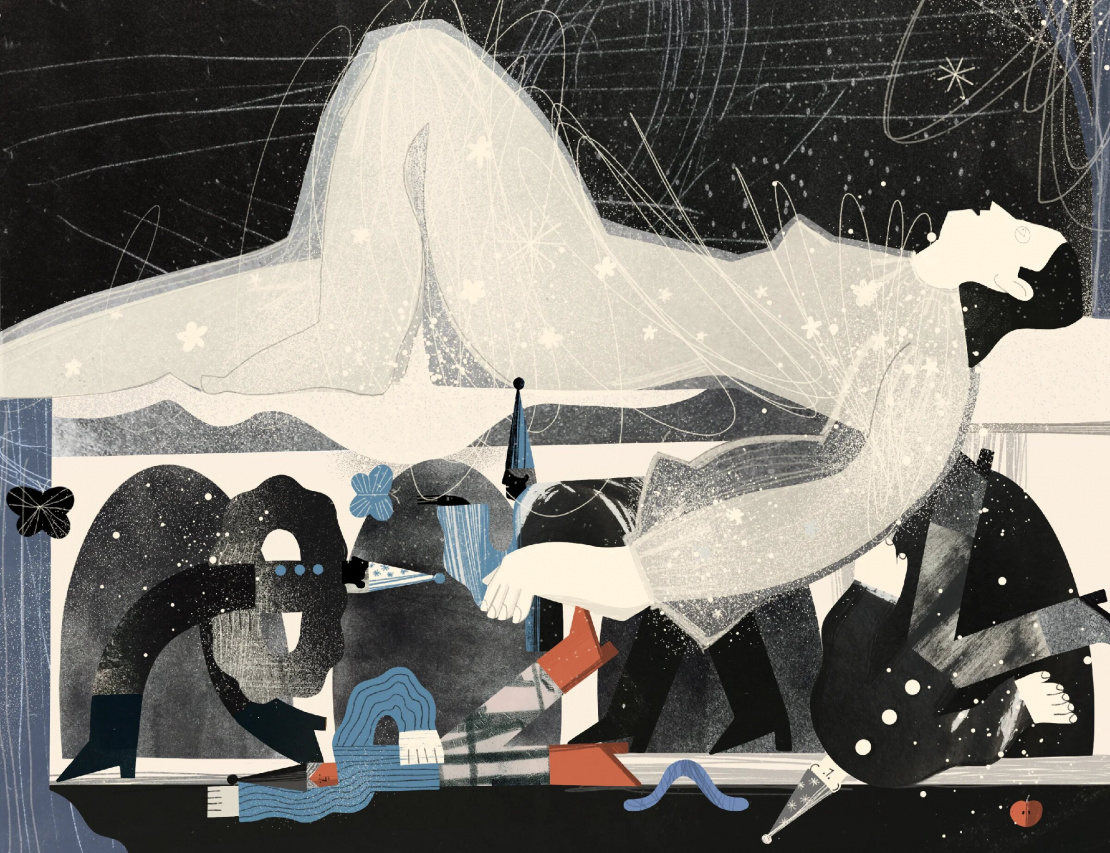 Students of Institute of Graphics and Book Art (named after V.A. Favorskiy) participate in art competitions of different levels. One of the most important latest events is the victory of Anna Evdokimova, a student of Institute of Graphics and Book Art, on the International Festival of Book Illustration and Literature Visualisation 2021. Anna spoke about the importance of her achievement and told us about her further career plans.
"I used to visit this Festival as a guest, but I have never applied as a participant. Last year I skipped the event, because I thought that participation in the online format would not be that promising. However, this year was different and I felt it was high time to participate, moreover, I had just completed a course thesis on illustration. I had already sent it to the Bologna Book Fair, where I had made it to the long-list. I chose my illustration to the drama by Boris Khlebnikov "Death's Mistake" as it meant a lot for me: I completed it during a drama period of my life, so I made the illustration complex and emotional and it is still important for me, as I put a lot into it.
This work has become a new technique vector for me in the sphere of graphics. My illustration represents a digital collage with the use of printing techniques. This style was new to me, that is why the illustration was really important to me. I was so sure of it, so I sent it without any hesitation.
Personally for me my victory meant the first step to the professional market in the society of artists. I am not a famous illustrator, that's why such a victory is an important step for my career, as the Festival is visited by potential employers and publishers. The catalogue is sent to publishing houses – after the event I have immediately received several job orders. All these factors make you more confident both about yourself and your work. Even making it to the Festival short-list was a pleasure for me, and my victory has become both an incredible and unexcepted achievement for me.
I am planning to finish my longtime project on Hamlet and reconsider my old illustration series. Moreover, I want to submit my works to Bologna Book Fair and other international competitions. For now I think that world illustration market looks promising, but I have nowhere to rush.
I think that you should participate in competitions in order to understand the particularities of each one and determine, which work is more suitable for this or that competition. In my opinion, my victory is an amazing achievement for me, but even the participation in such an event is really promising for every artist, as all the participants receive a lot of advantages, which can be efficiently used both in career and life. Sometimes the participation itself is more important and victory is just a bonus".