Elena Solntseva: "My main task is to help science move forward»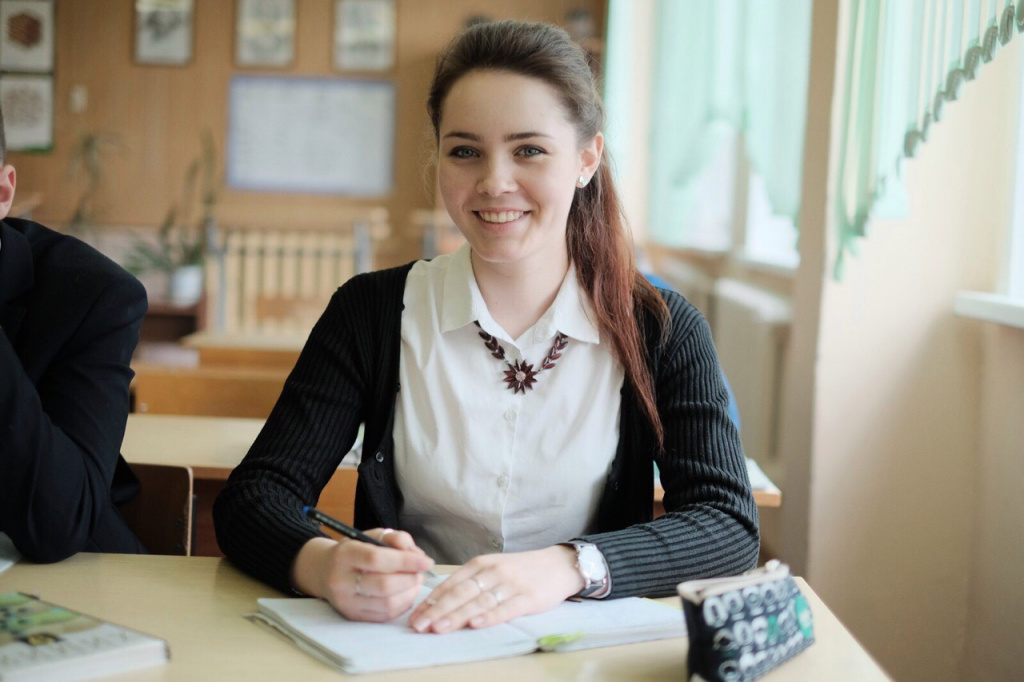 The author of the project "Faculty Faces" Inga Revazovna Borodkina interviewed Elena Solntseva, a student of Faculty of Chemical Technology and Biotechnology.
Representatives of different faculties of our university take part in the project "Faculty Faces". Lena, you are a 4th-year student of Faculty of Chemical Technology and Biotechnology, in the field of study "Biotechnology". In high school, you used to take part in Olympiads and graduated with a gold medal. Since the first year, you have been actively engaged in science. Please tell us how did you become a student of Moscow Polytechnic University?
Before we start talking, I want to tell you about my Dad. May I?
That`s quite unexpectedly. Yes, of course.
My Dad, Vladislav Alexandrovich, is everything to me. I learn from him to approach any business seriously, to think over and take into account every little thing and every detail. It is he who is my Life Teacher. And if we did an interview together, you'd see how cool he is.
My dad is a man with technical background. He graduated from Moscow Institute of Civil Engineering named after V.V. Kuybyshev V. (now it is NRU MGSU). He always wanted me to be a doctor, but he never insisted or forced me to go to medical school, but he left the choice to me. I really appreciate it. In general, I have wonderful parents who understand me, talk to me, discuss various difficulties. These are the people who taught me how to think and make decisions. I am grateful to them for everything.
Parents are the first and most important mentors, but not for everyone they become Teachers in life. You are a lucky person! As far as I understand, you came with your dad to the admissions committee of Moscow Poly.
Yes. We go through all the most important moments together. The first acquaintance with university was in June 2017. Having arrived at Elektrozavodskaya and having talked with the members of the admissions committee, I almost immediately realized that I wanted and would enter this particular university.
At school, at first I was interested in all subjects - I wanted to study all fields of science and know everything. But in high school, I realized that it was impossible to cover everything in the world and I had to choose the direction I would be doing. I have always been drawn to the technical field, so I have focused on the exact sciences. I believe that biology and chemistry are the future, so the choice fell on the field of "Biotechnology". Time has shown that I it was the right choice.
The path to becoming a student almost always lies through the Unified State Exam. How did you go through this period?
To be honest, it was quite a difficult time for me. I had a very heavy load: school, tutors, frequent practice exams. During the exam, I felt very nervous. I was getting weaker every day. But I was smiling, and the people around me were unaware of my problems and fatigue. Now I understand that all these exams are not a big deal, but then it was scary. Time of waiting for results is even worse. I was disappointed by the results. I was in despair, scolded myself, it was difficult for me to accept my loss. I decided to retake the exams and enter the next year, but my wise and beloved Father said: "Lenochka, it's nothing, we know you are doing a great job! We are proud of you and we will try to enter university this year." Now I understand that whatever happens happens for the best. Only when I became a first-year student, I finally calmed down and accepted my exam results, and after I started studying, I forgot about them altogether.
One of the best supports is the words of a person you respect and look up to. So, you are a student of Moscow Polytechnic University…
I was very happy. First year. Acquaintance with fellow-students. They are all interesting people. In the first semester, I really enjoyed experimenting in chemistry. Descriptive geometry and engineering graphics started in the second semester. I really enjoyed doing it! At the very beginning it was difficult, but Dad explained everything to me, and I began to understand this subject. I liked to draw and see the result of all the work done.
And then the project activity began. My first product was the project "Laccase". Later I attended a master class on 3D bioprinting, and I was very interested by this field. Therefore, when I saw "3D bioprinting" in the list of proposed projects for the next course, I undoubtedly signed up for it! Head of our project was Nikolai Zakharov. We studied hydrogels, their various properties, elasticity, etc. On the project, I gave a good account of myself, and I was sent to the student scientific conference, where I have showed good results in the field of 3D printing for three years in a row.
Time passed by. I liked the project more and more. I have gained tremendous experience in preparing various installations, preparing objects, writing reports and speaking to experts.
It turns out that it was the project activity that became the starting point for you to enter the world of serious science. Please tell us about your scientific life at university, what are you working on now? What are your plans for the future?
Yes, it turns out to be so. My scientific life at university is very interesting and rich. In my fourth year, I received a very cool offer — a job in a laboratory for a state order. There was no limit to my surprise! I was very pleased that the managers saw me as a future researcher. Without thinking twice, I decided to take a serious step into science. I am very happy that I had the opportunity to work on a great project and make a small personal contribution to science. After all, Science doesn't stay in one place, it goes huge steps forward. I want to help it in this, and now this is the main task for me.
I want to say many thanks to Dmitry Anatolyevich Nekrasov and Nikolai Sergeevich Zakharov. They helped me to pave the way to science, and without their participation I would not have achieved such results. These are people who will always prompt, help and guide you in the right direction.
We took part in scientific conferences: XXXIII International Scientific Conference "Mathematical Methods in engineering and technologies", Minsk Conference — XVI Minsk International Forum on Heat and Mass Transfer, Research of gel systems stability in relation to additive technologies – AVTiFG conference, Novosibirsk, conferences and seminars on the topics "Modeling of mass-conducting processes in gels in relation to 3d bioprinting technology", "Research of heat and mass transfer in agarose gels", "Research of transfer processes in gel systems with cells". I was also one of the speakers at the master class within the framework of Moscow Government project "Skills of the Future".
Last year I studied at Russian University of Economics named after G. V. Plekhanov V. on the additional general development program "Fundamentals of project activity". I already have teaching experience: I taught students a course of project activities. I enjoyed it. I want to expand the boundaries of scientific knowledge, write articles, speak at conferences and become a good specialist in my field. And my plans are simple — to successfully complete a bachelor's degree, enroll in a master's program and continue working on the project.
I see that you are a purposeful person and you are currently completely immersed in your favorite business. I think that in the near future I will be interviewing a master's student Elena Solntseva. You have already developed an interest in science at university thanks to your project activities, but you showed interest in science during your studies at school and took the first steps in it, didn't you?
Yes, it has always been interesting for me not just to study, but also to take part in Olympiads and projects. In high school, I used to take part in subject Olympiads. In high school I became interested in participating in conferences and projects. In the 10th grade, at the "Small Academy of Moscow Region" subject gatherings, I took first place in the development of the "From Children to Children" project.
In the 11th grade, I took part in the XI scientific-practical conference of schoolchildren "Science and modernity. Step into the Future".
I am also the winner of the competition of youth projects of the III district Meeting of the student self-government asset of the Lyubertsy Municipal District of Moscow region in the nomination "Best social project" - the project "Disabled child is a full-fledged member of society".
Your main hobby is science. What are your hobbies besides it?
During my school period, I did gymnastics, taekwondo, drawing, a little journalism, dancing. I went to the theater studio, to the club of burning, beading, volleyball, cheerleading. At the age of 10, I began to be interested in photography, videography and editing. This hobby came to me from my beloved Dad. Watching him make a whole movie out of pieces of video, I was always amazed and wanted to learn how to do it. And the hobby that I took over from my Mom is cooking. My mother is a modest person. I love her very much and I am proud of her. Since childhood, I have watched her create culinary masterpieces in the form of cakes. Now I try to learn her cooking secrets.
I also combined my studies in an educational and music school: I played the piano, studied vocals, solfeggio, music literature and sang in the choir. From the music school, we often used to go to concerts and solo performances. I've never had stage fright, and now it helps me. Of course, I still worry before every conference, but as soon as I go out, I get ready, smile and start my report. I believe that if you smile at the world, the world will smile at you. Adding a bright smile to the gloomy days, life takes on even more bright colors.
I also love reading. Now I read more and more scientific literature, but I try to find time for classical literature as well.
I do a lot of interviews for this project and for others, and perhaps you are the first heroine with such a bright school life. You know that our university has a very cool extracurricular program and you can choose almost any direction you like. I assume that you have tried yourself it it, haven't you?
Yes, I've tried a little. I was in the national team in step aerobics and competed at Moscow Polytechnic University, I passed the school of curators and thought to go to the school of media (MediaMyata), but by the end of the first year I realized that I need to set my priorities. Now I have a very active scientific life. Believe me — it is interesting and, most importantly, brings me pleasure.
How would you describe yourself? Lena Solntseva — what is she like?
Since childhood, I have revealed my talents in my desire to learn something new. My intense activity began in kindergarten. The main roles, reading contests, participation in various exhibitions - the name of Solntseva was everywhere. I think that it was in childhood that my main quality was born in me - diligence.
I am a very hardworking and inquisitive person, I can not sit idle, I am always busy with something. I am interested in everything around me, I am interested in every part of the unknown world. I would say that I am a leader. In my life I am fair, honest, very responsible and kind, which I am very proud of.
Would you like to wish something to yourself, students and applicants?
The main thing I want to wish future and current students is to believe in themselves and not be afraid to take risks. Do not forget to learn, learn more, learn forever. But also allow yourself to rest after the work done, otherwise burnout may occur, and you do not need it at all.
Discover a lot of new things, live, love. Get as much as possible from the present, because your student years are the most wonderful.
Go ahead, you will succeed!
And personally, I have plans to enjoy life, make my family even happier and achieve my goals.
Thank you very much for the candid interview. Good luck!